HARLEYVILLE, S.C. (Sept. 16, 2023) — U.S. Congressman James E. Clyburn (SC-06) joined representatives from Audubon South Carolina, the National Park Service (NPS), Clemson University, and other community leaders for an event at Audubon's Center and Sanctuary at Francis Beidler Forest to commemorate the Four Holes Swamp watershed's role in the fight for freedom from slavery in South Carolina. Congressman Clyburn offered remarks at the event, hosted by Audubon South Carolina, which was planned for September in honor of International Underground Railroad Month.
"The stories of the men and women who sought freedom from enslavement among these very trees are powerful reminders of the strength and resilience of the human spirit, even under the most challenging circumstances," said Congressman Clyburn. "I commend Audubon South Carolina's commitment to telling a complete history of the lands it protects."
Audubon South Carolina's Executive Director Rebecca Haynes welcomed the Congressman to the sanctuary. "As stewards of this land, we have an obligation to share and interpret both the natural and cultural history of Four Holes Swamp," she said. "I'm grateful to Congressman Clyburn for taking time to raise awareness about this important history, and to our many partners, especially the staff at the Avery Research Center, for lending their expertise in this endeavor."
The Four Holes Swamp watershed, where Audubon's 18,300-acre Beidler Forest sanctuary is located, is one of nine sites in South Carolina to be recognized by the National Park Service's Network to Freedom Program, which "seeks to honor, preserve, and promote the history of resistance to enslavement through escape and flight".
"We're proud to have the Four Holes Swamp watershed, including the old-growth sanctuary at Beidler Forest, as a part of the Network to Freedom program," said Sheri Jackson, Southeast Regional Manager for the Network to Freedom program at the National Park Service.
"It is particularly impactful to be in this landscape during September, which is known around the world as International Underground Railroad Month," continued Jackson, who joined Congressman Clyburn in offering remarks at the event.
Audubon South Carolina sought NPS designation for the site after research revealed that freedom seekers used the area around its Beidler Forest sanctuary as a refuge from slavery leading up to the Civil War. An important piece of this history focuses on James Matthews, who fled bondage on a plantation near Four Holes Swamp where he was born, took refuge in the swamp before finally escaping North, and later recounted his experiences anonymously in a memoir entitled "Recollections of Slavery by a Runaway Slave." Dr. Susanna Ashton of Clemson University, whose research first connected James Matthews to this anonymous narrative, also provided remarks at this event.
In partnership with the Avery Research Center, Audubon installed six new interpretive signs this past spring, thanks to an NPS-funded grant from the Association for the Study of African American Life and History. These signs are the first step in interpreting the cultural history of the land for the thousands of people who visit the Beidler Forest Center and Sanctuary each year. Today, Audubon continues to work with members of the community and partners, including representatives from other Underground Railroad sites, to identify further opportunities to highlight the Underground Railroad designation and honor the men and women to whom the history belongs.
The Four Holes Swamp watershed is named after the Four Holes Swamp itself, which is a blackwater swamp that rises in Calhoun County and flows for 62 miles to the confluence of the Edisto River. The watershed includes portions of the tribal lands of the Edisto Natchez-Kusso, a state-recognized Native American Tribe, which is headquartered in Ridgeville.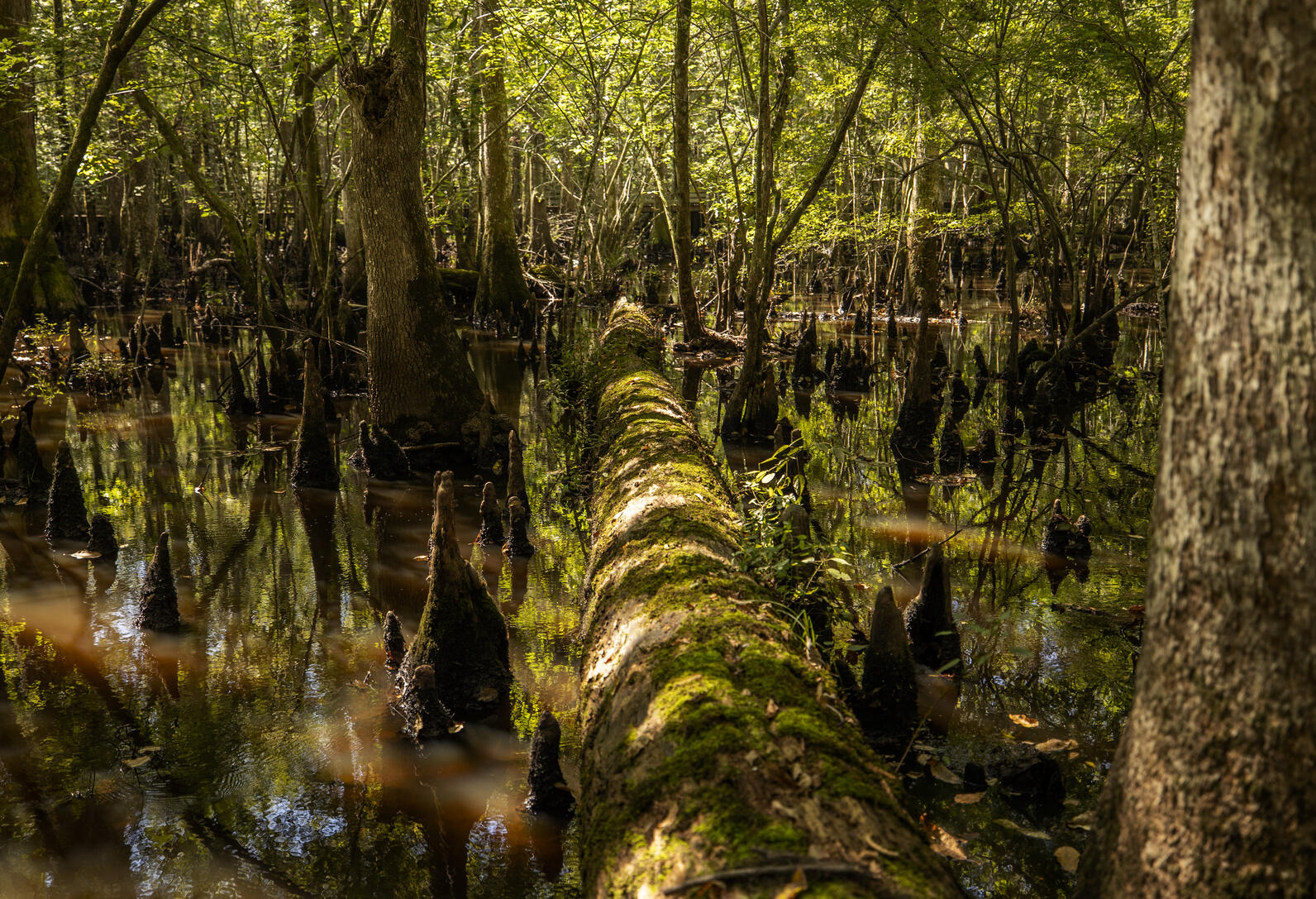 Beyond the area's cultural and historical significance, Four Holes Swamp also provides vital habitat for vulnerable bird and wildlife species and critical ecological services, helping maintain water quality and mitigate the impacts of severe flooding to downstream communities in this rapidly developing area of the Lowcountry.
Visitors to Audubon's Beidler Forest Center and Sanctuary, which spans portions of Berkeley, Dorchester, and Orangeburg Counties, have an opportunity to learn more about the history of the area, as well as Audubon's ongoing research and conservation efforts, through a self-guided tour along the center's 1.75-mile accessible boardwalk through the swamp, which is surrounded by thousand-year-old bald cypress and tupelo gum trees. The center is open Friday-Sunday, 9-4 and is free for all guests on the second Saturday of every month. Visit beidler.audubon.org for more information and to plan your visit.
###
About Audubon South Carolina
Audubon South Carolina protects birds and the places they need, right here in South Carolina. We're the state office of the National Audubon Society, which has more than one million members and a century-long track record of success. In South Carolina, we represent over 25,000 Audubon members and supporters, nine Audubon chapters and bird club partners, two Audubon nature centers and more than 30,000 acres of land that we own and manage using bird- and climate-friendly forestry. Learn more about what we do and how to help at sc.audubon.org. Follow us on Facebook at @scaudubon, Twitter at @audubonsc, and Instagram at @audubon_sc.
For media inquiries or photos, please contact:
Matt Johnson
Center Director
The Audubon Center and Sanctuary at Francis Beidler Forest
Matthew.Johnson@audubon.org
803-429-5571