Coasts
Completed research on Crab Bank Seabird Sanctuary is summarized below.
Crab Bank Physical Monitoring Report Takeaways:
This research was conducted and written by the South Carolina Department of Natural Resources Marine Resources Research Institute. The Principal Investigator was Dr. Peter Kingsley-Smith with Co-Principal Investigators Dr. Denise Sanger and Gary Sundin. Collaborators included Dr. Andrew Tweel, Graham Wagner, Lauren Faulk, Greg Rothman, Pamela Marcum, Norm Shea, and Joseph Cowan.
Twelve unoccupied aerial vehicle (UAV; aka drone) flights were completed over the island to collect elevation and shoreline change data.
The area of habitat above MHHW remained nearly constant throughout the first year post-construction. The width of the island remained relatively stable. It is natural for the island to experience some overwash on extremely high tides and for the width of the island to change over time, but these measurements suggest relative stability over the monitoring period.
The island experienced some physical changes during the year-long monitoring period but overall the island remained close to the original placement footprint. Both ends of the island extended in length and gained elevation while the southern border experienced some sediment loss.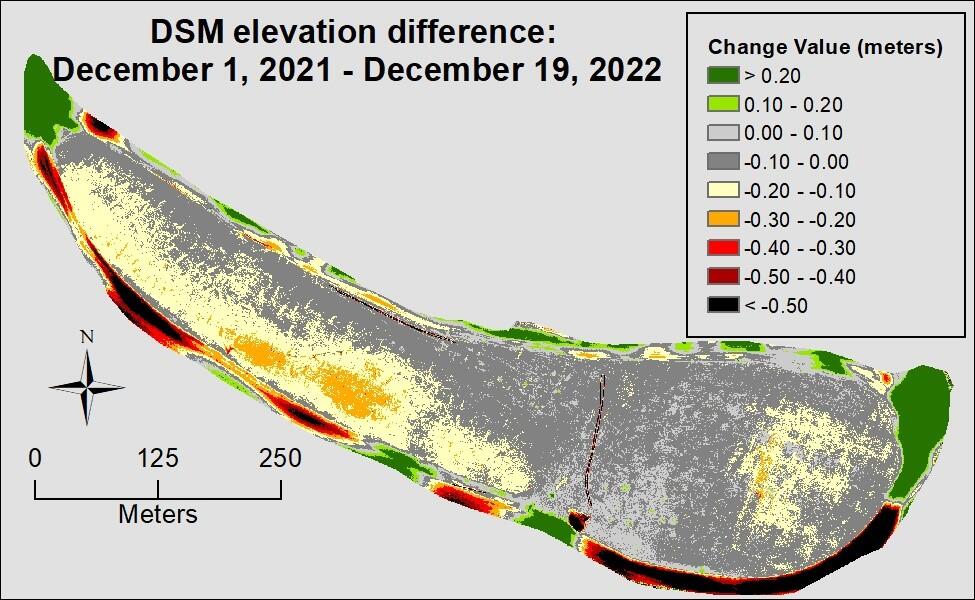 Sediment samples were also collected from Crab Bank to analyze grain size. According to the report, "material collected in April 2021, pre-placement, was reasonably similar to that of the first post-placement collection in December 2021. There was a gradual coarsening of material present on the island between the beginning and end of the sampling period, most of which occurred immediately after renourishment.
Click here for the full physical monitoring report on Crab Bank.
Crab Bank Economic Report Takeaways:
This research was conducted and written by Dr. Raymond J. Rhodes from the College of Charleston, and Dr. John C. Whitehead from Appalachian State University.
This report estimates the use and non-use values of the restored Crab Bank Seabird Sanctuary. The authors conclude that there is substantial value generated by the restoration of Crab Bank.

The estimated annual economic contribution to the SC Tri-County economy for activities related to Crab Bank totals $5.18 million (in 2019 dollars). This includes outfitter ecotours, recreational fishing, shrimping, and paddle club activities.

The restoration of Crab Bank resulted in a significant increase in recreational use value for the area - bringing more money to the surrounding area.
The economic benefits of restoration far exceed the costs, making restoration an efficient use of money. After surveying nearby residents, the aggregate benefits value of a restored Crab Bank ranged from a minimum of $15 million to $60 million.
This study's scope did not include the following socioeconomic benefits of Crab Bank, though they likely also exist:

Fostering local community links with their cultural and natural heritage,
Generally nurturing local, regional, and national support for funding conservation programs,
Providing a site for environmental education activities that advances localized conservation awareness,
Providing a site that largely reinforces positive social "connectivity" with the environment, and
Generally improving human health and well-being for active and passive users.

These economic benefits provide insight in to the potential benefits of completing similar restoration projects that benefit coastal birds in other areas of the coast.
Click here for the full economic report on Crab Bank.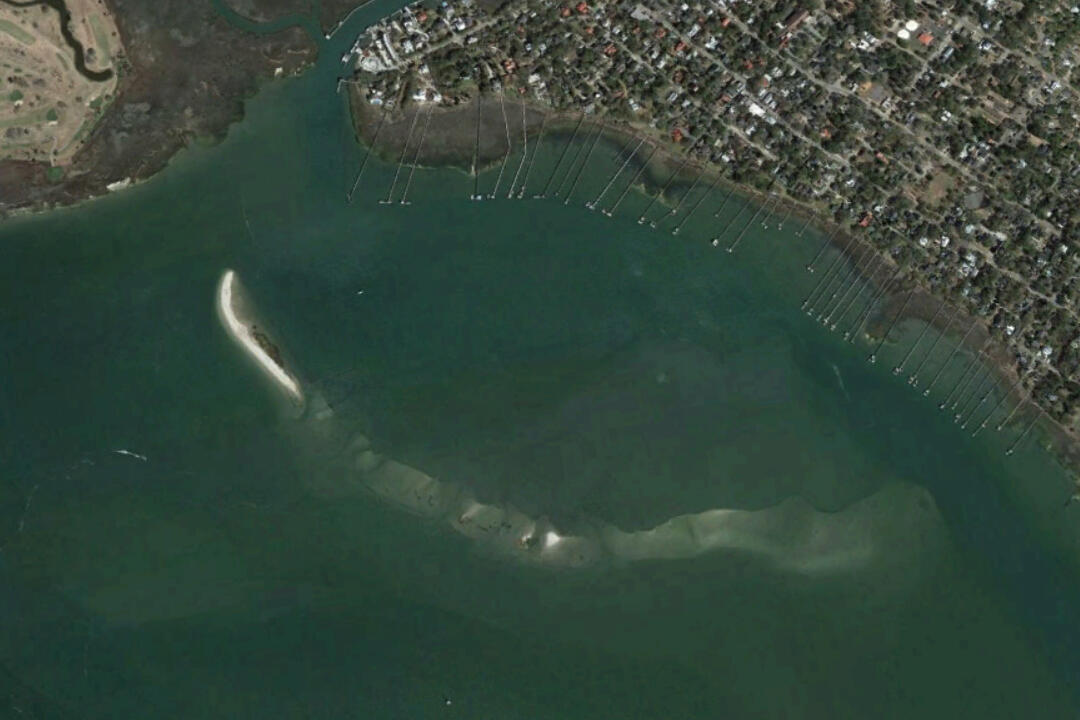 Crab Bank Engineering Report Takeaways:
This research was conducted and written by Water Environment Consultants and led by Matthew Goodrich, P.E.
The newly restored Crab Bank is providing protection to homes and businesses in the nearby community from wind, waves, and storm surge by buffering wave energy coming from the harbor.
Audubon South Carolina commissioned a report by Water Environment Consultants, which found there is a large reduction in wave height on the shoreline for the area behind Crab Bank. In other words, Crab Bank helps minimize storm impacts to this coastal area.
Crab Bank creates a large cost savings of about $1.6 million to structures that are sheltered by the island in an 10-year storm.
These types of islands cause the greatest reductions in wave energy and potential shoreline erosion during typical conditions.
In other areas of the coast with less stable shorelines and lower elevation homes, the wave reduction benefits of a bird-nesting island such as Crab Bank would be even greater - highlighting the need for projects like this to be replicated along other areas of the coast.
How you can help, right now