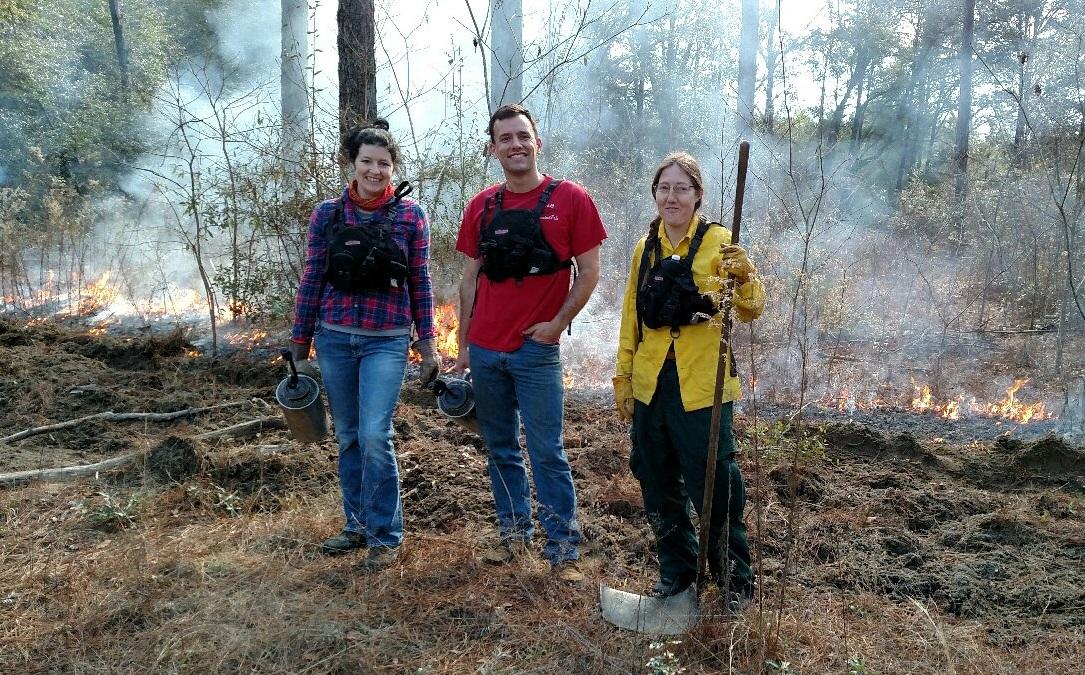 Happily, Silver Bluff has no shortage of friends who are devoted to helping our sanctuary become even more friendly to birds, other wildlife, and our visitors. If you are interested in volunteering for us please register with us here. If you have questions please call us at 803.471.0291 if you'd like to learn more about volunteer opportunities, including:
GREETING VISITORS

DESCRIPTION

Visitation numbers at Silver Bluff are modest but rising. Paid staff are not always present, so it is important to maintain a corps of volunteers that can be scheduled to greet visitors. Primary duties include:

Unlocking/locking the Center building when staff are not present
Greeting visitors and asking them to sign the visitor logbook
Providing general information about walking trails, programs, events, etc.
Anwering the Center telephone and taking messages for staff


The Silver Bluff Greeter may also perform such tasks as:

Filling bird feeders
Updating information on bulletiin boards and outdoor kiosks Ÿ
Helping to maintain the native plants garden
Light housekeeping

SKILLS DESIRED

Greeters must have a pleasant demeanor and enjoy interacting with the public. They should be comfortable working in both an indoor and outdoor setting.

TRAINING

Sanctuary staff will provide any training needed, along with initial supervision. A notebook containing vital and basic information pertaining to Silver Bluff is available for the Greeters' reference.

NOTES

The work schedule for this position is very flexible, but the program works best when a volunteer can commit in advance to a regular schedulue; for instance, greeting during the early shift on the first Saturday of each month.

Greeters are welcome to station themselves either inside the Center or outside, as long as the cordless office phone is close enough to receive a signal.

Greeters are free to read a book, bring a laptop to work on, or conduct other personal business when not actively engaged in greeting visitors.

TIME FRAME

Daily throughout the year; early shift (9 am to 1 pm), late shift (1 pm to 5 pm), or as available.
GARDEN MAINTENANCE

DESCRIPTION

Silver Bluff has two main gardens on the main campus--one being a native plant garden, and the other a more traditional pollinator garden. A third small wetland garden receives overflow water from rain barrels at the Wayland Lamar Pavilion. A group of volunteers known as the Carolina Diggers helps to maintain and enhance the gardens, and they always welcome assistance. Their motto is "We dig Audubon!" Duties include:

Planting new annuals in the spring
Weeding and "dead heading"
Spreading pine straw
Cutting back perennials
Establishing a watering schedule

SKILLS DESIRED

No special skills needed. Volunteers must enjoy working outside by themselves or with others.

TRAINING

Carolina Diggers members and/or sanctuary staff will provide any training needed.

NOTES

Gardening tools and gloves are available at Silver Bluff, though many volunteers bring their own. Fire ants can be a problem in the garden, but sanctuary staff tries to limit their presence.

TIME FRAME

February - October; generally twice each month.
| | MOWING |
| --- | --- |
| DESCRIPTION | The campus lawns and walking trails require periodic mowing throughout the warm growing seasons. The Kathwood Wood Stork Foraging Pond levees also require periodic mowing. A small tractor, operated similarly to a riding lawnmower, is used to pull either a 5' finishing mower or a 4' brush cutter. Approximately an hour is required to mow the lawn at the main campus, as well as at the Kathwood ponds. The time required to mow the walking trails varies according to their length: 3 miles, 2 miles, and ¾ mile. Mowing all three in one day would require approximately 5 hours. Mowing the entirety of the pond levees requires approximately 3 hours. |
| SKILLS DESIRED | Familiarity with operation of lawnmowers. Ability to pay close attention to work being performed and surroundings. |
| TRAINING | Sanctuary staff will provide any training needed, along with initial supervision. |
| NOTES | Sanctuary staff will be responsible for the set-up and maintenance of the tractor and mower attachments. Hearing and eye protection will be provided to the volunteer. Volunteers should be willing to work in conditions that are sometimes very hot and dusty, and that can be accompanied by biting insects. The tractor has a hard-top canopy that provides relief from the sun. |
| TIME FRAME | April - October |
TRAIL MAINTENANCE

DESCRIPTION

Three walking trails totalling nearly six miles are maintained for visitors to Silver Bluff. In addition to requiring regular mowing (described as a separate volunteer opportunity), the trails need to be checked regularly to ensure safe conditions and to curtail encroaching vegetation. Duties include:

Removing fallen sticks and branches or other tripping hazards from the trails
Using hand loppers to cut back encroaching vegetation
Sweeping debris from the boardwalk
Ensuring that all directional and warning signs are in place
Cleaning interpretive panels and other signs
Picking up litter
Notifying staff of fallen trees or any other unsafe conditions

SKILLS DESIRED

Volunteers must be in good physical condition and able to work outside in a wide variety of weather conditions.

TRAINING

Sanctuary staff will provide any training needed.

NOTES

Trail Maintenance volunteers may either walk the trails or drive an ATV in order to perform the work required. Several miles of public roads travel through Silver Bluff, and littering along the roadways is always a problem. Trail Maintenane volunteers can work by themselves or in teams to pick up and dispose of this litter. Staff will make a pickup truck or ATV available for such work.

TIME FRAME

Throughout the year.
PRESCRIBED BURNING

DESCRIPTION

The Silver Bluff forest management plan calls for prescribed burning as many as 800 acres of woodlands annually, sometimes in blocks as large as 100 acres. Volunteers assist sanctuary staff in conducting prescribed burns by participating in a variety of activities where responsibilities increase with that of the experience level of the volunteer. These activities include:

Shuttling equipment via pickup truck or ATV from point A to point B
Watching for and reporting any problems with an ongoing fire
Managing fire situations with the use of fire flaps, rakes, shovels, water pumps
Setting fire with drip torches
Use of 2-way radios
Interpreting aerial photos and/or maps


Prescribed burning is an invaluable tool used by land managers. Becoming involved with this opportunity will provide volunteers a great deal of information pertaining to land and wildlife management.

SKILLS DESIRED

Ability to pay close attention to work being performed and surroundings. Depending on the activity, this work can be very physical and involve walking long distances through the woods while carrying drip torches or other equipment.

TRAINING

Sanctuary staff will provide training along with supervision.

NOTES

Volunteers should be willing to work in smoky conditions that can range from cold to very hot. Clothing worn, including boots/shoes, are likely to become quite dirty. Gloves, vests, drinking water, radios and other equipment are provided.

TIME FRAME

Mostly December - March; generally 11 am to 4 pm. Occasional summer burning.
EQUESTRIAN EVENTS

DESCRIPTION

Silver Bluff hosts as many as seven equestrian events during the year, usually during the spring and fall. These events are either horseback rides open to the general public or horse and carriage driving events conducted by the Aiken Driving Club. Duties include:

Greeting participants and having them sign liability & photo releases
Providing information about the event to participants collecting event fees
Helping to coordinate parking at the event staging area
Setting up lunch buffet items and cleaning up afterwards


During the week leading up to an event, volunteers can be useful in preparing the trail routes for the horses. If interested in this aspect of event preparation, please see the Volunteer Opportunity summary for Trail Maintenance. This includes:

Removing trees, branches, and any other trail obstructions
Cutting and removing encroaching vegetation from overhead and from the sides of the trails
Erecting directional signs along the trail routes

SKILLS DESIRED

Volunteers must enjoy interacting with the public and be comfortable around horses.

TRAINING

Sanctuary staff will provide any training needed.

NOTES

Lunch is provided. 2-way radios are furnished as needed.

TIME FRAME

Usually February, March, May, October, November; generally 8:30 am to 2 pm.
BIOLOGICAL MONITORING OF HOLLOW CREEK

DESCRIPTION

Hollow Creek is spring-fed, having its headwaters in Aiken, eventually running through Silver Bluff and into the Savannah River. Under the protocol of the Georgia Adopt-A-Stream Program, a group of volunteers (self-named "The Stream Stompers") periodically monitors the biological health of Hollow Creek. Extra assistance is always appreciated. Duties include:

Collecting samples from the stream bottom and edges and transporting them back to the "lab" at the Silver Bluff Center
Setting up microscopes, sample trays, forceps, pipettes, etc
Sorting through the samples looking for macroinvertebrates (aquatic insects) identifying and recording the macroinvertebrates cleaning up and returning the samples to the creek

SKILLS DESIRED

Volunteers do not need to be scientists! Good eyesight is needed in order to spot the smallest invertebrates--sometimes only a 1/16" long.

TRAINING

The Stream Stompers members and/or sanctuary staff will provide any training needed.

NOTES

Lunch is provided. Chest waders are avaiable (limited sizes) for those that actually enter the creek to obtain samples. Only two people are needed to be in the water, and they should be capable swimmers in case of accidents.

TIME FRAME

Monitoring is conducted on back to back days, on a quarterly basis: February, May, August, November. The process usually lasts from 10 am to 2 pm.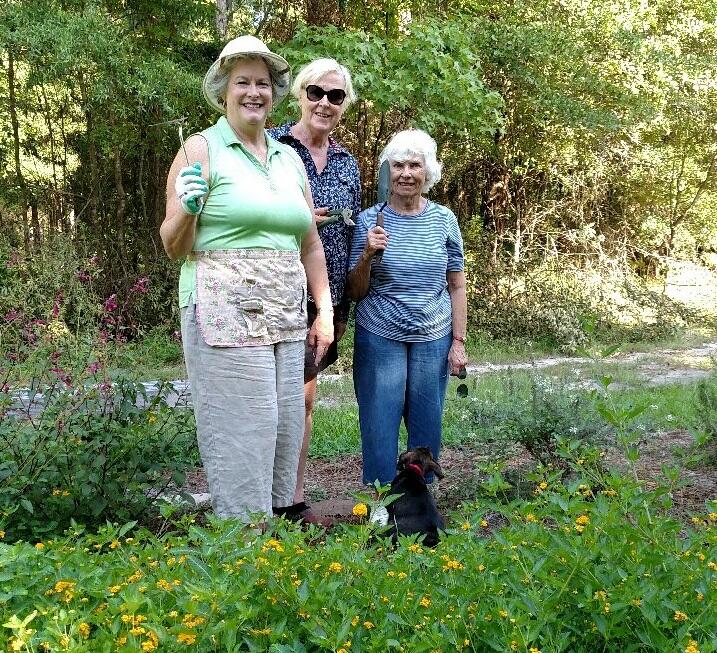 How you can help, right now