CHARLESTON, SOUTH CAROLINA (May 18, 2020) – As Memorial Day weekend rings in the summer season on South Carolina's coast and many of our beautiful beaches begin to reopen, people are more excited than ever to get to the shore. However, some VIP guests have been enjoying the beaches more than ever throughout recent closures: our shorebirds.
As COVID-19 related-restrictions begin to ease across the state, Audubon South Carolina is calling on beachgoers to do their part to keep our birds safe by avoiding all nesting areas.
"Shorebirds and seabirds are beginning to nest right now and some already have chicks running around the beach. Both the nests, eggs, and little hatchlings blend right in with the color of the sand, so it's important that beachgoers pay close attention so as not to accidentally harm or disturb them," said Nolan Schillerstrom, Coastal Program Associate for Audubon South Carolina. "Social distancing is not just important for people—keeping our distance from coastal birds is necessary to help reverse the steep declines many populations have experienced in recent decades."
People and dogs look like a predator to nesting shorebirds and seabirds. When we approach their nesting areas, instinct kicks in and the shorebirds will either flee or leave the nest to attempt to lure you away from it. This leaves eggs vulnerable to the hot summer sun which can kill eggs and flightless chicks in minutes.
Here are four tips to follow to make our beaches safer for birds:
Keep your distance from birds. Give nesting birds at least 150 feet of space—or about half a football field—whenever possible. Pay attention to signs on the beach, which help alert visitors to particularly vulnerable areas.
Keep your pets on a leash. If pets are permitted on beaches, keep them leashed and away from nesting areas to avoid startling or chasing birds. Birds will abandon their nest if they see a dog nearby.
Don't let your children chase birds. Birds are amazing and the urge to get closer is understandable! Instead of chasing birds, explain the importance of sharing space so these interesting creatures can thrive.
Remove trash and food scraps. Human food is not only bad for birds, but it can attract animals that are likely to eat shorebird eggs or even chicks.
Be mindful of where you land your boat. If you see coastal birds using the land, find somewhere else to land.
"In North America, shorebirds have declined more than 70 percent over the last 40 years. Audubon is working hard to reverse this trend through education, monitoring and conservation," added Schillerstrom. "Our Coastal Bird Stewardship Program, which involves training and deploying dedicated volunteers to help protect sensitive nesting areas and educate beachgoers, is a key part of ensuring coastal birds can nest safely on our beaches. With the COVID-19 pandemic, stay-at-home orders and social distancing guidelines creating some unprecedented barriers to the program this year, we're relying on our coastal communities and individual beachgoers—whether you live on the coast or simply visiting—to do their part to share the beach."
Individuals who are interested in learning more about Audubon's Shorebird Stewardship Program, which engages local communities to protect beach-nesting birds from predators and disturbance such as off-leash dogs or fireworks, can find more information at https://sc.audubon.org/LERLEN.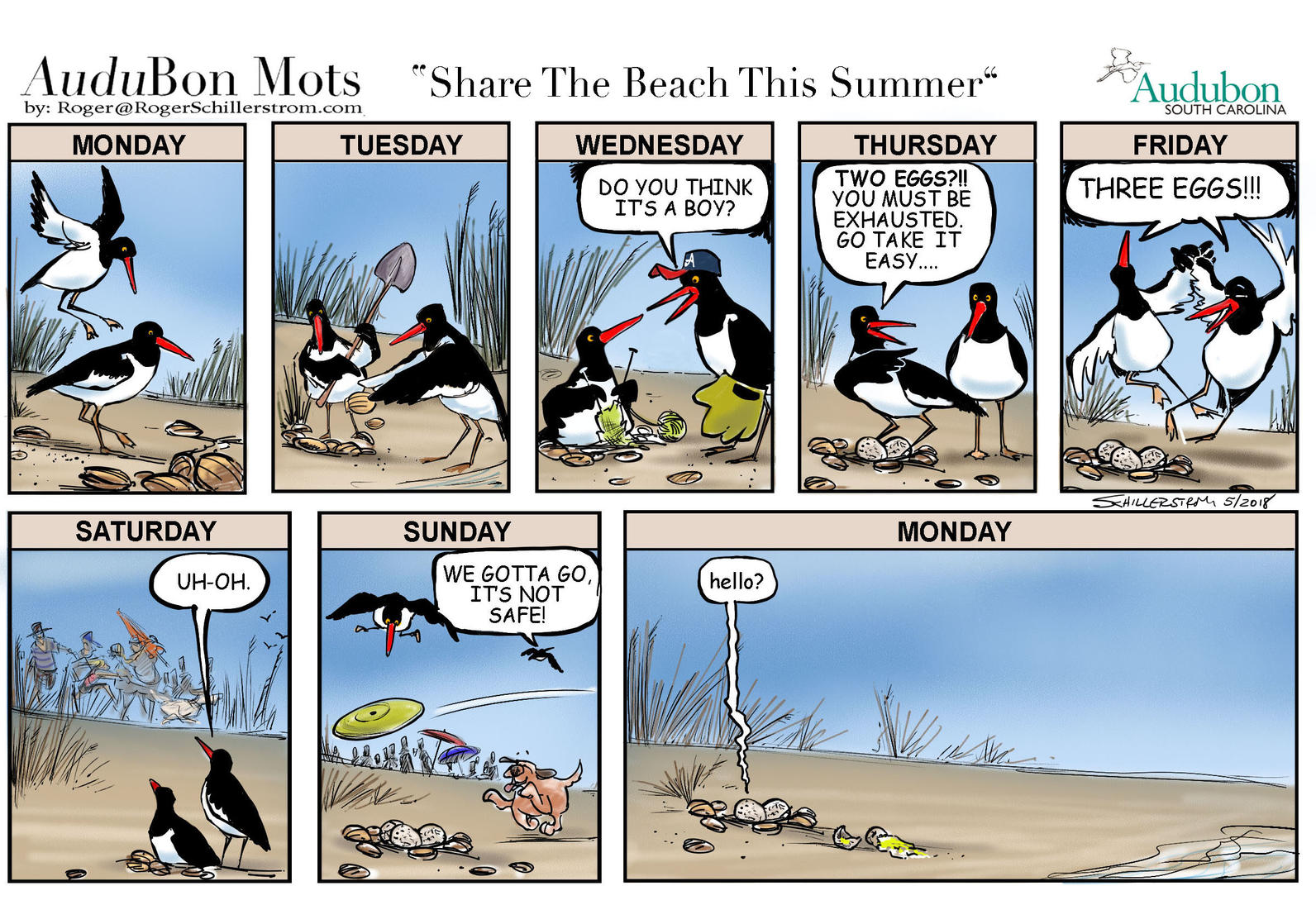 ###
About Audubon
The National Audubon Society protects birds and the places they need, today and tomorrow, throughout the Americas using science, advocacy, education and on-the-ground conservation. Audubon's state programs, nature centers, chapters and partners have an unparalleled wingspan that reaches millions of people each year to inform, inspire and unite diverse communities in conservation action. Since 1905, Audubon's vision has been a world in which people and wildlife thrive. Audubon is a nonprofit conservation organization. Learn more how to help at www.audubon.org and follow us on Twitter and Instagram at @audubonsociety.
About Audubon South Carolina
Audubon South Carolina protects birds and the places they need, right here in South Carolina. We're the state office of the National Audubon Society, which has more than one million members and a century-long track record of success. In South Carolina, we represent more than 20,000 Audubon members and supporters, nine Audubon chapters and bird club partners, two Audubon centers and 22,000 acres of land that we own and manage. Learn more about what we do and how to help at sc.audubon.org. Follow us on Facebook at @ScAudubon, Twitter at @AudubonSc, and Instagram at @audubon_sc.
###
Media Contact
Nolan Schillerstrom