Recently, a seven-year-old boy bounded into the store with his grandmother behind him trying to keep up. Without an ounce of hesitation or shyness, he asked for my help locating our hummingbird feeders, and proceeded to tell me excitedly about all the different birds he had seen in his yard and which birds he wished he could see. His grandmother chimed in, talking about her own avian visitors and asking about how to attract Painted Buntings and how to choose the best location for a bird bath. As I helped the pair load the birdfeed and other goodies into their car and wished them a wonderful weekend, I marveled at the power birds have to create passion and connections the lives of people of all ages.
This is why we do what we do at Wild Birds Unlimited.
At our Mt. Pleasant store, my staff and I are honored to bring people and nature together. We help people create bird sanctuaries in their own yards, while helping birds by providing safe, carefully-selected products to meet their needs. From feed to feeders, houses to birdbaths, and pole systems to wind chimes; and with many suet varieties, live and dried mealworms, Bark Butter products, and eight different seed blends created specifically for our region, we offer products that help attract more than 100 different species of birds to your yard. We also have the knowledge and information you need to meet your goals, whether you're concerned about seed casings making a mess under your feeder, are having trouble identifying birds at your feeder, or are having trouble keeping squirrels out of your feeders.
Bird feeding is more than a hobby: it's a way to connect with nature, preserve green spaces, and help wildlife. No one knows that better than Audubon South Carolina. In appreciation of all they do to preserve South Carolina's wildlife, Wild Birds Unlimited of Mount Pleasant will donate 5 percent of every transaction on our newly-launched online store to the organization. Simply visit mywbu.com/mtpleasant and include the word "Audubon" in the "order notes" section to donate.
We hope to help you create a bird haven in your own yard soon, whether you visit our store in person or online. In the meantime, happy birding!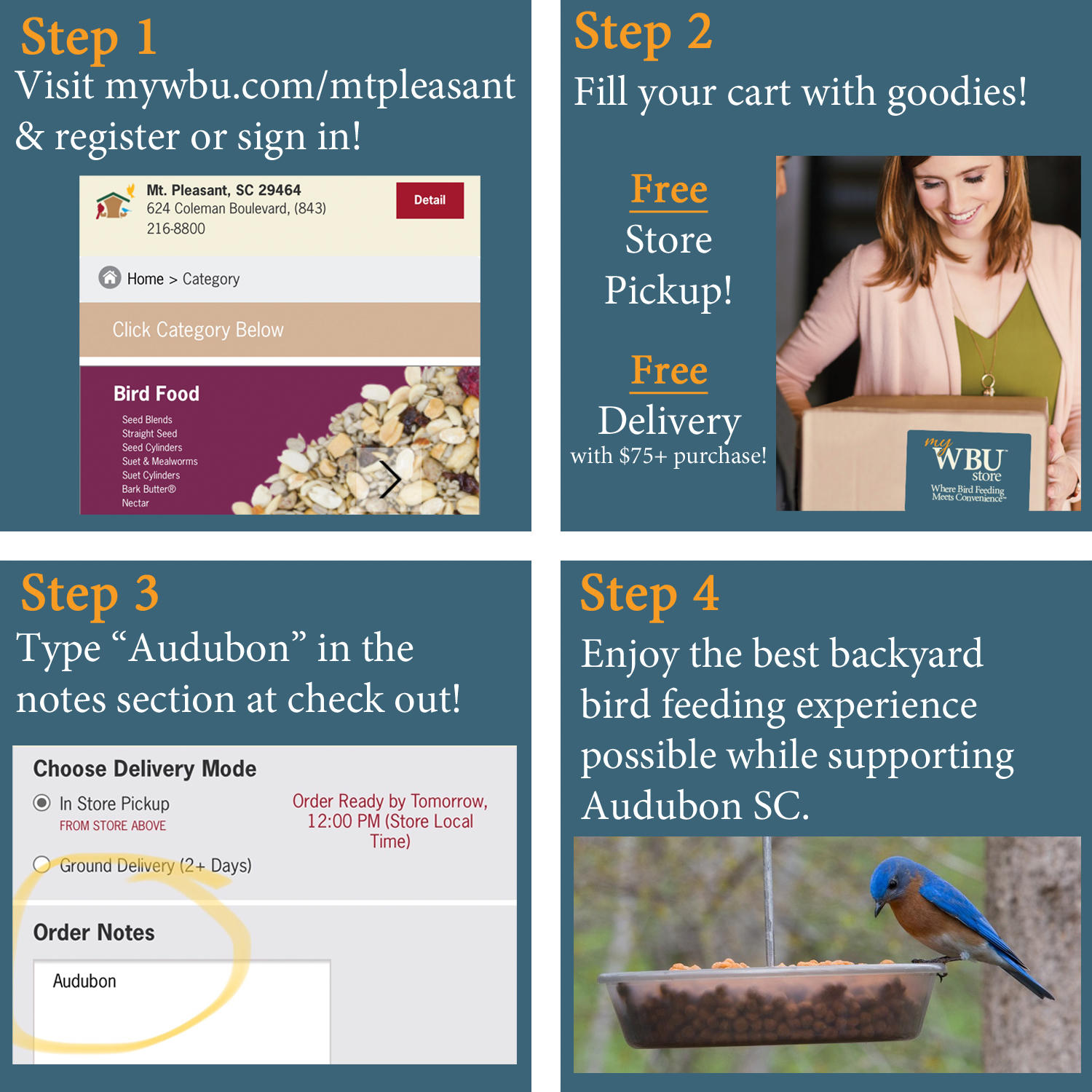 --
Danielle Motley is the owner of Wild Birds Unlimited of Mt. Pleasant. Wild Birds Unlimited of Mount Pleasant is part of the original and largest franchise system of backyard bird feeding and nature specialty stores with more than 300 locations throughout the United States and Canada. Wild Birds Unlimited specializes in bringing people and nature together with bird feeding and nature products, expert advice and educational events. Visit mywbu.com/mtpleasant to shop her site and support Audubon South Carolina when you do!