The MAPS banding program is a continent-wide collaborative effort among different institutions, nonprofits, government and non-government organizations. MAPS stands for Monitoring Avian Productivity and Survivorship. Francis Beidler Forests' MAPS station was established in 2017, which makes the breeding season of 2020 the fourth running season. As with everything in 2020, conditions weren't ideal and we hit a few snags of the non-arboreal kind, and well, some of the arboreal kind too, I mean, it's a forest, you can't avoid all of them in the dark.
We often enjoy the help and company of our wonderful and tough-as-nails volunteers at the banding station, who brave unfathomably early wake up times, manic swarms of eyeball poking yellow flies, and humidity so thick you can slice it with a knife. This year, due to Covid-19, we took on the MAPS season with only three staff to ensure safety of our wonderful volunteers.
Another fun aspect of this season was the roller coaster ride that the weather took us on. The first three MAPS sessions were delightfully chilly and cool, warranting the donning of a light jacket, to the absolute delight of the cold-blooded bander, Jen. Usually we get one cooler morning for the first session in May, then it's hot and humid for the rest of the season. The wet Spring we had provided some challenges of it's own, while it provided for cooler temps and lots of happy plants, it wreaked havoc with trying to predict the weather. Day 3 started with a 30% chance of rain and not a blip on the radar. When we arrived in the dark, we noticed a light sprinkling and shrugged it off and began our net opening routine only to have the 30% chance of rain predicted slowly build, and finally result in a downpour as we rushed to furl nets a few hours later. After our misguided denial and poorly placed optimism, as well as not wanting our wake-up time of 3:45 am to go to waste, we deflated into the reality that day 3 was a total and utter wash out.
July came with it's steamy temperatures, and with it came a month-long quarantine and case of Covid-19 for Jen and family. Nolan answered the call of duty and joined Matt to run two banding days while we waited out our quarantine (not to worry, we had a very mild case and were very lucky! Just bored... and missing society in our isolation). One of those days Matt and Nolan caught an unexpected bird, a very early migrant, a fat loaded Louisianna Waterthrush! This species is one of the earlier migrants and it goes to show migration is a long process and starts as soon as breeding ends for some species. I would argue there are two seasons for birds -- breeding and non-breeding -- and there's nothing but movement to transition between the two.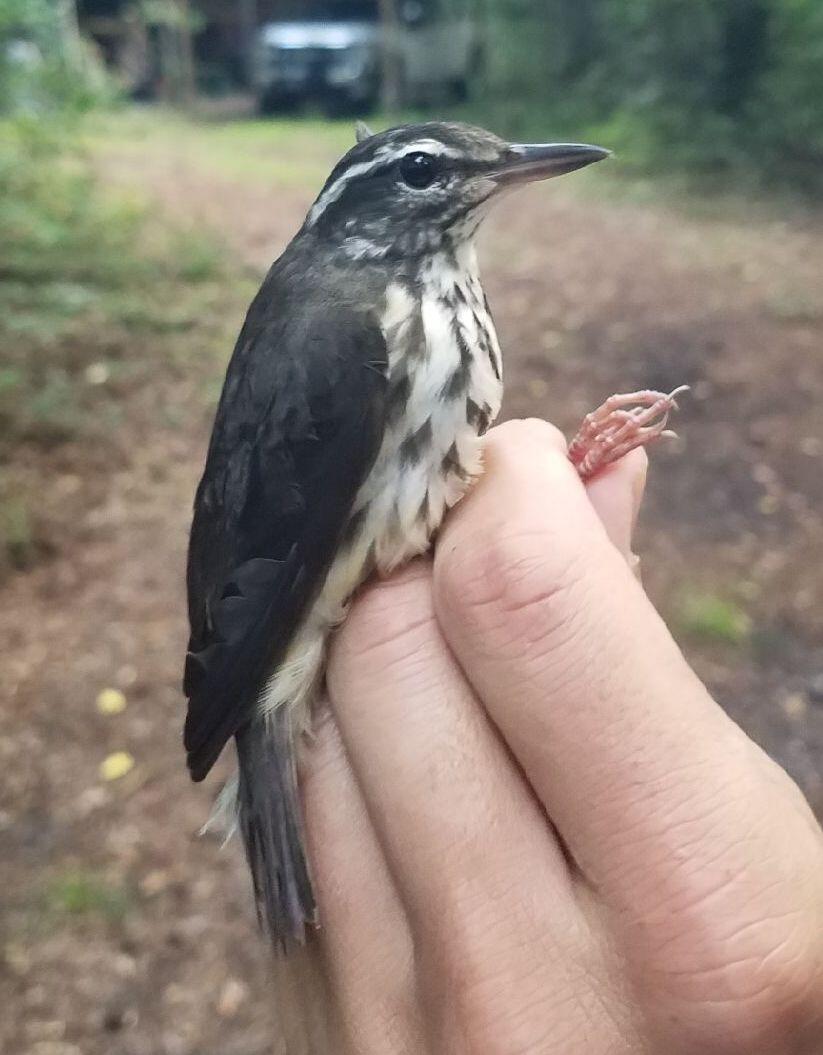 All in all it was a successful MAPS season with one missed session due to Covid-19, and one wash out day, considering other stations couldn't operate at all under the circumstances, we'll call it a win! Keep in mind when comparing annual numbers in the figures below, that we had those two days (one missed, and the other a wash out) with no birds captured. So considering that we missed about 20% of the season, the numbers are too drastically different from other year's totals.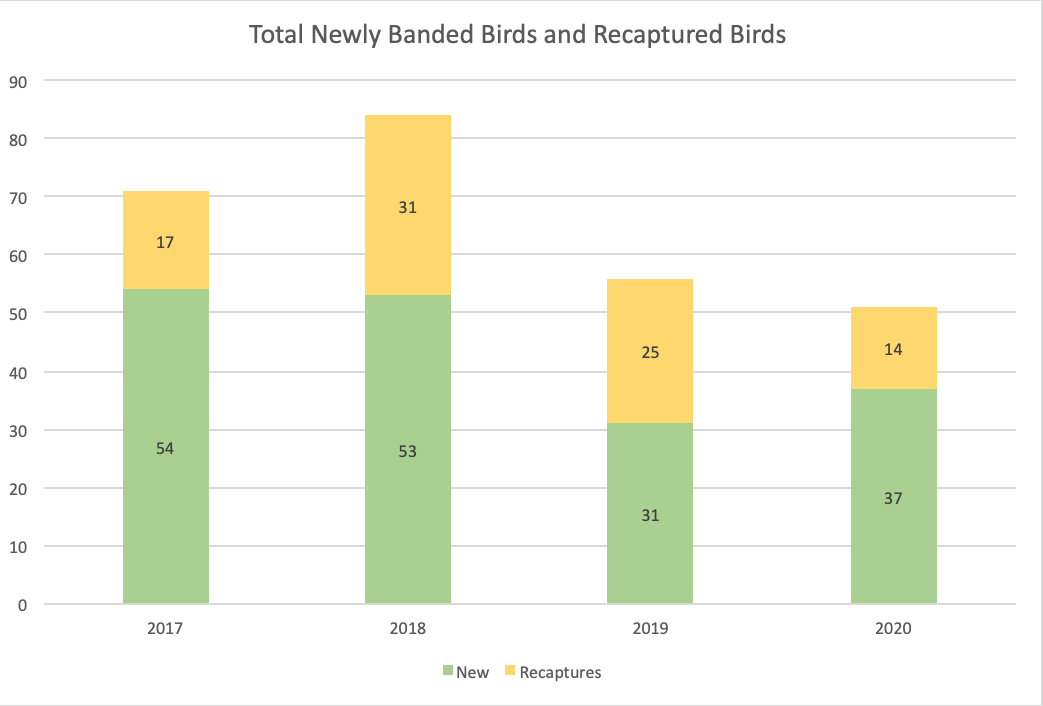 Below are some of the stats for this year and total stats for all 4 years, as well as some interesting recaptures from this year and highlights.