Article originally posted by the Greenville Journal on August 10th 2023, by Jay King.
When Rebecca Haynes took over as executive director of Audubon South Carolina in March, she had two realities to contend with.
The first was a driving imperative to protect the variety of habitats crucial to healthy bird populations, a core goal of Audubon's local and global efforts.
The second was a recognition of the inevitability of population growth and development throughout the Palmetto State where, by some estimates, as many as 1 million new residents are expected within the next decade.
Striking a balance between those two realities is at the heart of Haynes' vision for the society's work going forward. She said working to strike that balance in the critical environment of the Upstate presents both opportunities and challenges.
A legacy of conservation
Before taking the helm of Audubon South Carolina, Haynes served in a variety of conservation roles, including as deputy director for Conservation Voters of South Carolina from 2013 to 2023, and as associate director of Southeast conservation for American Rivers from 2011 to 2013.
That experience, combined with a stint as a watershed manager with the state Department of Health and Environmental Control, enabled her to interact with a wide variety of people and organizations engaged in conservation across the state.
Those years of interactions helped her gain an appreciation for the long-standing, bipartisan nature of conservation efforts. She also saw how those efforts shape the discussions on how South Carolina will accommodate the current and future growth and development.
"It's an interesting moment in South Carolina," Haynes said.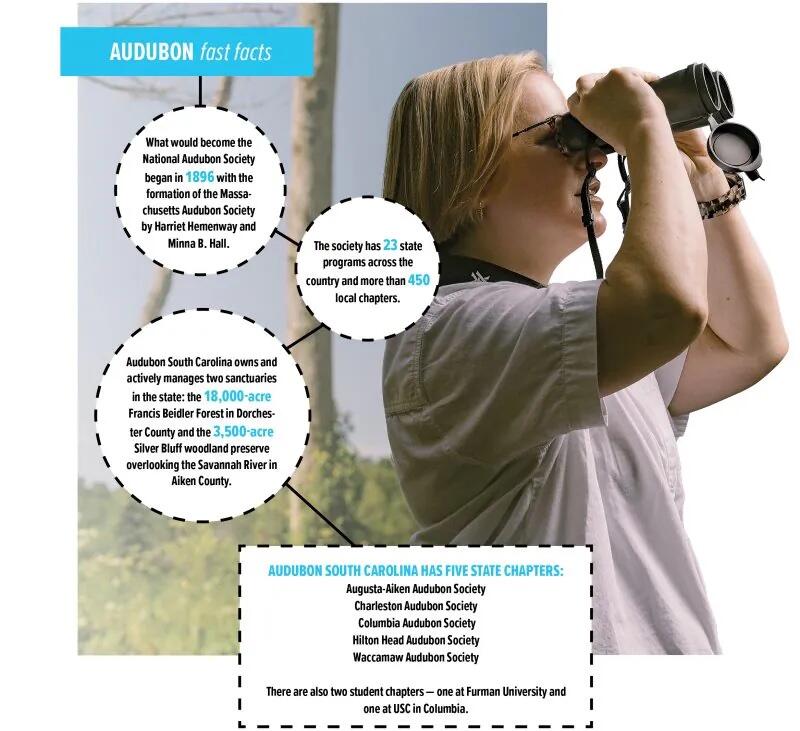 One of the things making it interesting is the growing awareness among landowners, developers and elected leaders that preserving healthy habitats for birds and other animals can also produce healthy habitats for people.
"Birds are the frontline indicator of how healthy our environment is," Haynes said. "Because birds are everywhere."
Through her years of advocacy on conservation issues with members of the South Carolina General Assembly, she said she knows there's baked-in interest among legislators in protecting the state's natural resources because so many of them grew up with an ingrained appreciation for the outdoors.
"We have such a great conservation culture all over the state," she said. "So many of us have grown up in these woods or on these shores."
Healthy birds, healthy communities
During a recent visit to the Upstate, Haynes stopped in at Conestee Nature Preserve to talk about the important work that has been done and the work that remains.
She said Conestee is an example of what can be achieved by setting aside important wildlife habitat in a rapidly growing area like Greenville.
The 640-acre wildlife sanctuary, located just south of the city and Interstate 85, is considered by many to be a birder's paradise with 224 identified species of birds. The preserve is an active partner with Audubon, which has conducted banding surveys there for species like prothonotary warblers.
Haynes said the preserve is an example of what is possible with forethought and planning. The preserve is fed by the Reedy River, which for decades served as a dumping ground for waste from textile mills along its length.
Thanks to the Lake Conestee Dam and efforts over decades to restore the natural landscape along the river and around the lake, the preserve has blossomed into a vibrant habitat for a variety of plant and animal species that thrive despite being close to a major interstate and urban hub.
Such sanctuaries are good for wildlife and people, Haynes said, and point to how the needs of both can be balanced.
"(The Upstate is) a special place, but it's under intense pressure," she said. "We still have so many options, but it's going to take a lot of work."
Haynes said Audubon has identified the region as a crucial waypoint for migratory species, which stop in the area to rest on their long trek from northern North America to wintering grounds in South America.
She said habitat loss can seriously disrupt migration patterns, which could have profound impacts on healthy bird populations.
"South Carolina has all the right tools, and we haven't lost (the battle for preservation) yet," she said.
Haynes said she and Audubon South Carolina hope to expand partnerships across the Upstate to advance the work of conservation. The society is increasing public engagement initiatives to help educate people on simple ways they can make their surroundings healthier for birds and other wildlife.