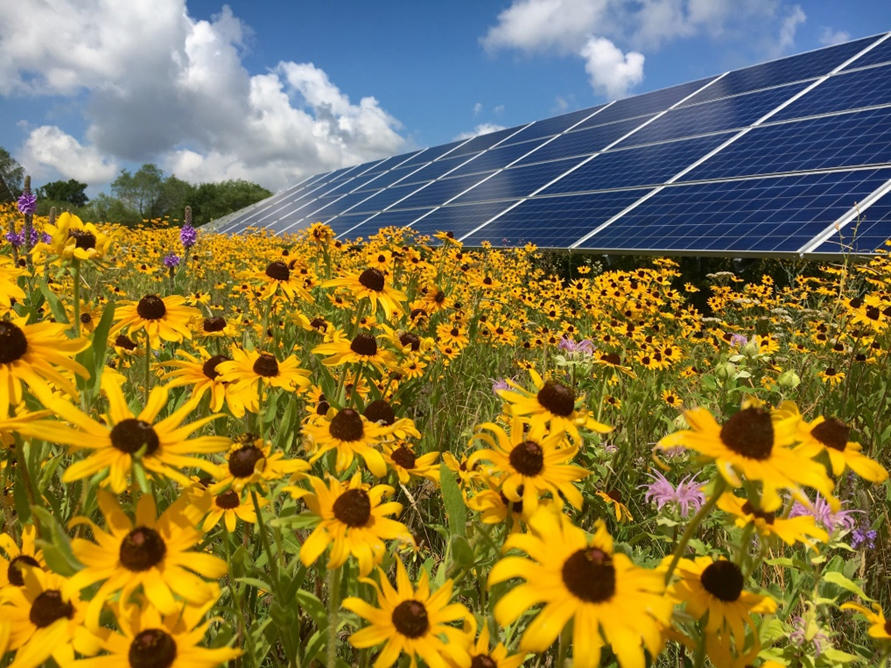 Ranges for South Carolina's birds are shrinking and shifting due to climate change. Shrinking ranges are an obvious threat. But even a shift can prove hazardous, reducing food sources and/or introducing birds to new predators.
One of the most important ways we can help climate-stressed birds is to landscape with native plants. They provide just the right smorgasbord of insects, flowers, and berries to boost populations of climate-stressed birds. In the long run, native plants will also help birds become more resilient to changing weather patterns.
Native plants have more subtle benefits too. Their deep root systems — really deep compared to grass — restore healthy soils. Healthy soils not only absorb lots of stormwater, providing protection from floods; they also absorb or "sequester" carbon, which actually slows climate change.
Native & Solar Legislation
So how do we convince South Carolina's homeowners, landscapers, and developers to go native? One strategy is to work with garden clubs and other partners to promote a Native Plant Resolution in the South Carolina General Assembly. The bill passed in March 2017, providing a strong platform for this nascent movement.
Now we're promoting a "Solar Habitat" bill that would encourage solar energy facilities to use landscaping that's friendly to birds and pollinators. (And we're not waiting to get that legislation into place. We're already working with one solar developer that's ready to plant 1,000 acres of bird-friendly, pollinator-friendly habitat.)
In addition, we're working with our new solar energy allies to promote a bill that would allow an 80 percent property tax break for solar-generating facilities, residential renewables, and other desirable energy options.
This bill is expected to unleash more than $1 billion worth of capital investment in clean, renewable energy for South Carolina. And, incidentally, create many more sites for native plants.
Statewide Shift
Native plants offer tremendous potential for better bird conservation in South Carolina. Cities and suburbs currently cover 10 to 15 percent of our state, and growing. More than 80 percent of plants in those areas are currently non-native.
A statewide shift to landscaping with native plants could ensure the survival of literally millions of birds!
PROJECT CONTACT: Matt Johnson, mgjohnson@audugon.org.