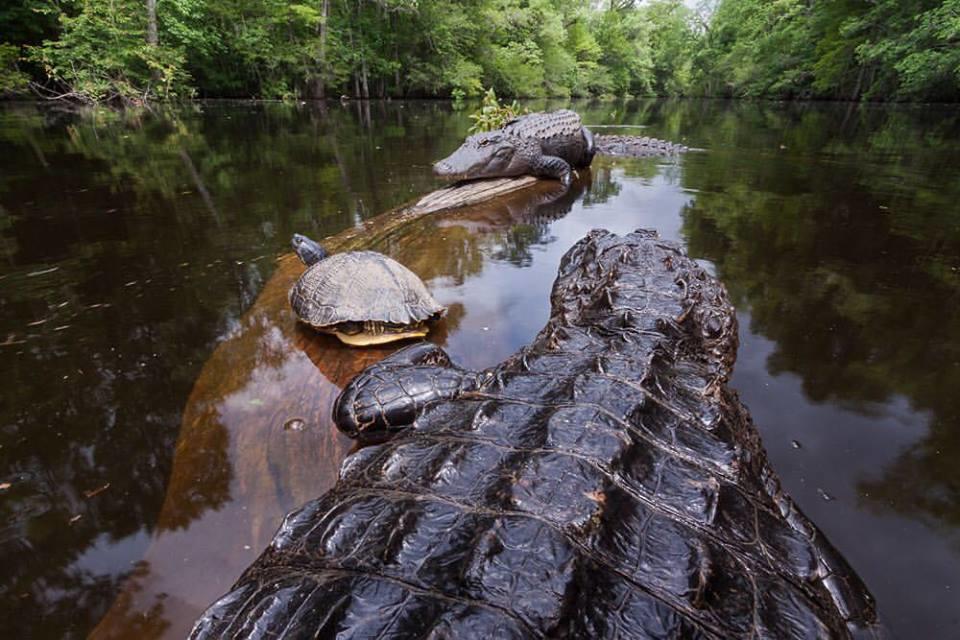 Beidler Forest is the world's largest virgin cypress-tupelo swamp forest — a pristine ecosystem untouched for millennia. Wildlife here are plentiful and varied, including:
Birds
Barred Owl (year-round)
Brown Creeper (winter)
Hermit Thrush (winter)
Hooded Warbler (spring/summer/fall)
Kinglets (Ruby-crowned and Golden-crowned — winter)
Northern Parula (spring/summer)
Prothonotary Warbler (spring/summer)
Red-shouldered Hawk (year-round)
Swallow-tailed Kite (spring/summer)
Yellow-crowned Night Heron (spring/summer)
Yellow-billed Cuckoo (spring/summer)
Winter Wren (winter)
White Ibis (late spring/summer/fall)
Woodpeckers (Pileated, Red-bellied, Downy, Hairy, and Yellow-bellied Sapsucker — year-round)
Vireos (White-eyed and Red-eyed — spring/summer/fall. Blue-headed — winter)
And more . . . .
Check out a complete list of recent bird sitings here.
Mammals
Bats (nine species, including the declining Big-eared Bat, can be seen on night walks)
Bobcat
Gray Squirrel
Long-Tailed Weasel
Marsh Rabbit
Nine-banded Armadillo (a non-native species)
Raccoon
Red Fox
River Otter
Virginia Opossum
White-tailed Deer
And more . . . .
Reptiles & Amphibians
American Alligator
Banded Watersnake
Bronze Frog
Brown Watersnake
Eastern Cottonmouth
Eastern Mud Turtle
Greenish Rat Snake
Spotted Turtle
Yellow-bellied Slider
And more . . . .
Spiders & Insects
Dark Fishing Spider
Ebony Jewelwing Damselfly
Great Blue Skimmer Dragonfly
Marbled Orbweaver
Red-femured Orbweaver
Tussock Moth Caterpillars
And more . . . .
This is just a small sampling of the wildlife we see at Beidler Forest. Please come explore for yourself!
Photo Gallery
Donate to Audubon
Help secure the future for birds at risk from climate change, habitat loss and other threats. Your support will power our science, education, advocacy and on-the-ground conservation efforts.