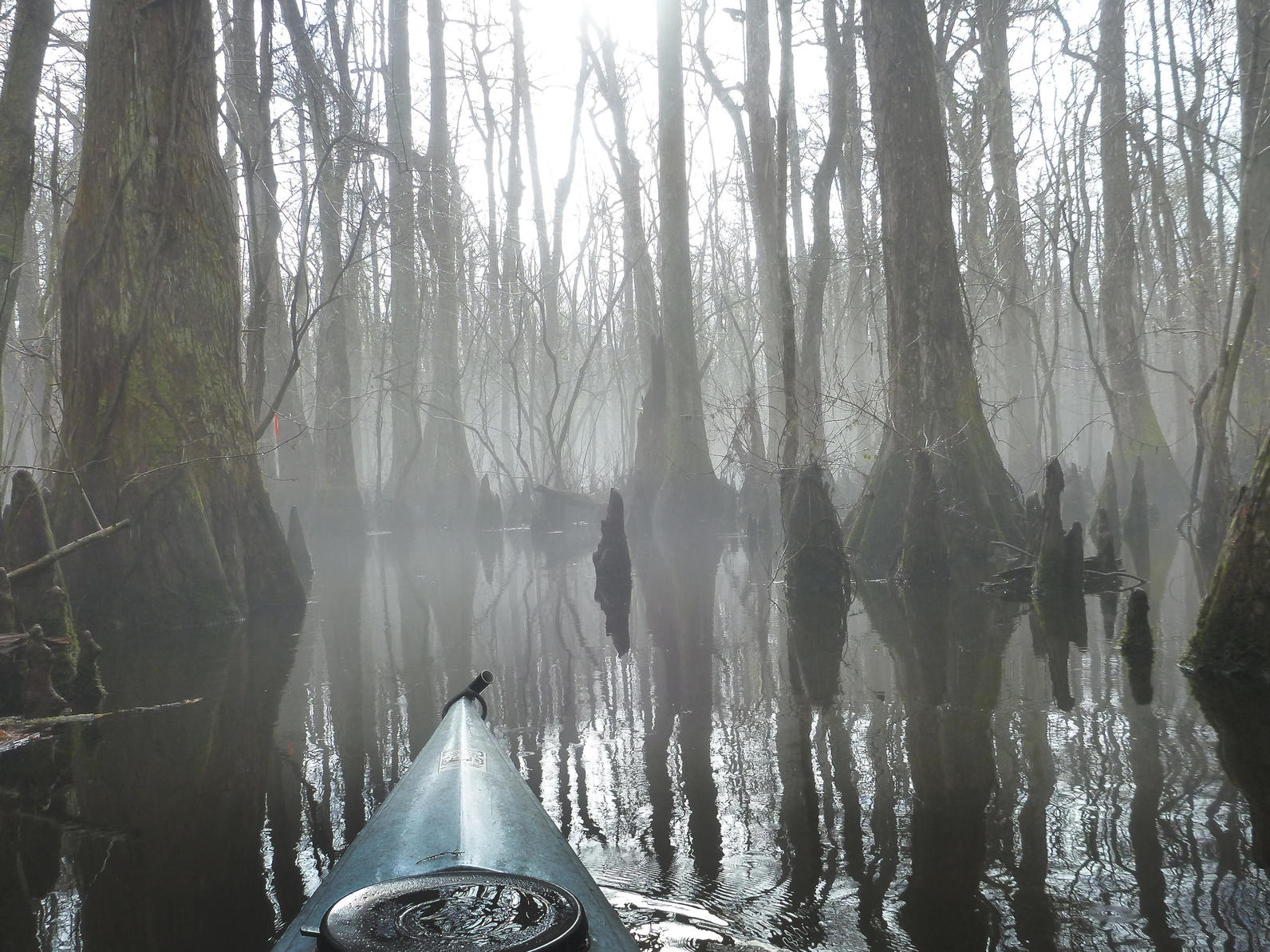 Paddle the still blackwater under towering 1,000-year-old cypress trees as an Audubon naturalist leads you deep into the heart of the forest. You'll treasure this unique view of the swamp for the rest of your life!
March through May we offer regular canoe/kayak tours. At other times of the year, private canoe/kayak trips are possible depending on water level, guide availability, and your willingness to pay for a minimum of five people.
Our rules and recommendations, including the fact that reservations are required, are listed below.
Schedule & Fees (March, April, May)
| Length | Day | Time | Cost |
| --- | --- | --- | --- |
| 4 Hours | Friday | 1 PM | $40 per person (age 13+), $15 per children |
| 2 Hours | Saturday | 9 AM | $25 per adults (age 13+), $10 per children |
| 4 Hours | Saturday | 1 PM | $40 per person (age 13+), $15 per children |
You can request a private canoe trip on another day or at another time of year. We're happy to do it if we've got enough water and enough staff. Call ahead of time, and bring at least five people or be willing to pay for five people.

Rules & Recommendations
Availability: Canoe trips are subject to our having enough water from recent rains.
Canoes & Kayaks: Our tours are limited to 6 boats and we have 2 to 3 person canoes, 2 person kayaks, and a very few single kayaks. This means that there will usually be two people per canoe or two people per 2-person kayaks. What boats are used are dependent upon the number of people in the tour and will be determine by the guide on the day of your tour.
Reservations Required: Reservations are required in advance. Sign up early. Canoe trips are very popular attractions, so they fill up fast. Call (843) 462-2150 from 9 a.m. to 5 p.m. Tuesday through Sunday.
Cancellation Policy: If you cancel without providing one week's notice, your credit card will be charged a cancellation fee of 50 percent of the cost of your trip. (If we cancel the trip, of course, no fee will be charged.)
Experience: We recommend that you arrive with some kayaking/canoeing experience. Our trips require you to maneuver between cypress knees, through narrow creek channels, and around POISON IVY. This is not a great place to take your first kayak or canoe lesson!
Children: On two-hour trips, it's not recommended that you bring children younger than 6. On four-hour trips, it's not recommended that you bring children younger than 8.
Clothing & Shoes: Bring clothing appropriate for that day's weather conditions. Wear shoes that can get wet.
Outdoor Gear: Binoculars and cameras are welcome! A waterproof bag is recommended since there's no guarantee that you won't flip your kayak or canoe.
Food & Drink: Please eat either before or after your trip. Snacks and something to drink are recommended. (We also recommend a cookie for your guide if you want to be shown the way out. :) )
NO alcoholic beverages allowed. There are no bathrooms in the swamp.
NO pets allowed. You don't want your family pet to be an alligator's next meal.
NO bug spray. You won't need it, and we'll tell you why when you get here.