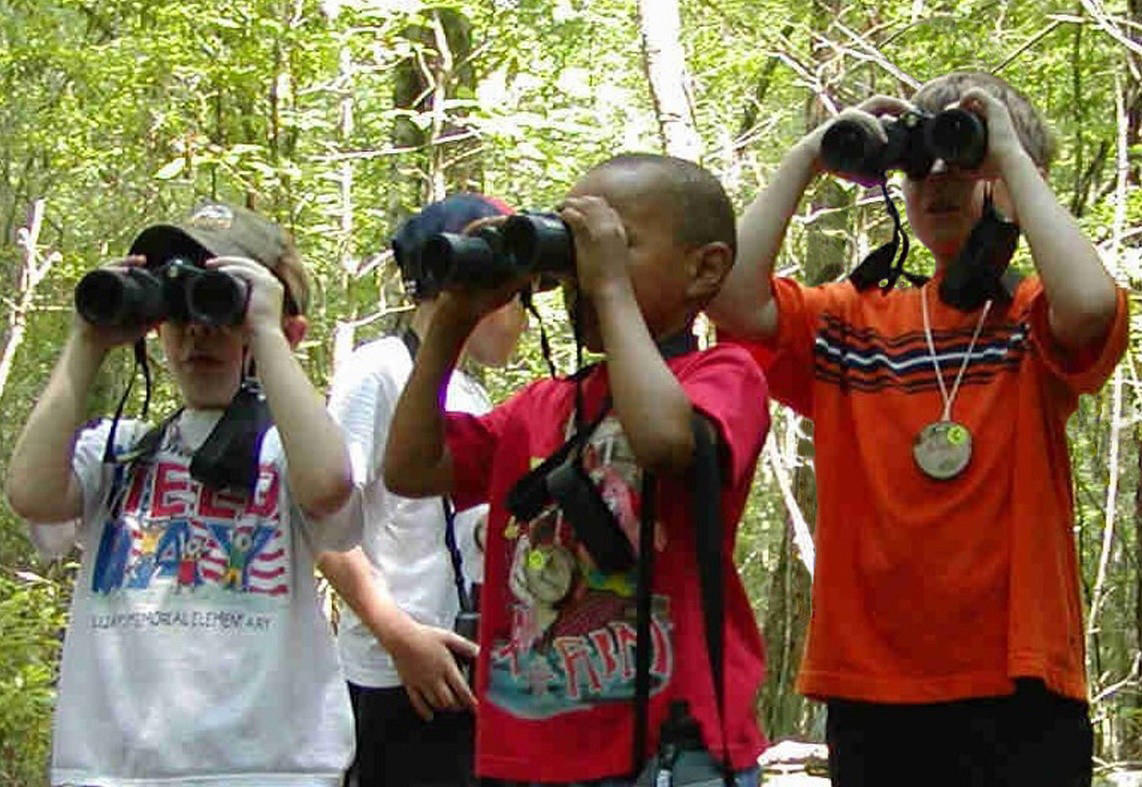 "Give us your yawning, your bored, your restless students yearning to breathe free . . . ."
What do you do when your kids can't take one more day inside, but you haven't a second to waste in your march toward meeting standards? How about . . . bring them to Beidler Forest?
Our naturalists are warm and funny and immensely knowledgeable.
Our boardwalk is 1.75 miles long, with benches and rain shelters at easy intervals.
We offer standards-based programs for grades K-12 — student satisfaction guaranteed.
School group visits, which always include a boardwalk tour guided by a naturalist, cost $5 per student. If you want to add a grade-appropriate, standards-based activity (see below), the cost is $7 per student. There's no charge for classroom teachers who come with a school group.
| Activity | Grade Range | Description |
| --- | --- | --- |
| Birdwatching – the Six S's | K-12 | Students use Audubon binoculars to learn how to identify birds. Emphasis is placed on using binoculars, identifying field marks, and describing bird locations. |
| Can You Hear Me? | K-5 | Students use their listening skills and must work together to learn how birds communicate in this fun game. |
| Sensing Beyond Sight | K-3 | Students learn to explore their sense of hearing and touch as ways for interacting with the world. |
| Critter, Critter | K-2 | Students practice observational skills on the low boardwalk by finding "critters" that we've placed in the swamp. |
| Let it Rain | 1-6 | Students use a model to introduce the concept of a watershed and to learn how rain affects pollution (>15 kids per group). |
| Pass the Pollution | 1-5 | Students come up with ways to use land they "inherited" as a way of learning how watersheds pass along pollution. |
| Clouds, Swamps & Oceans | 2-8 | Students "become" a water droplet that travels through Beidler Forest to learn about the water cycle. |
| Oh, Deer! | 2-8 | Student act out the parts of a deer herd in this interactive game. Data from activity is graphed to show how population size changes in response to environment. |
| A Swampy Food Web | 2-6 | Students select critters to represent and become a part of the swamp's food web to learn how energy transfers from critter to critter. |
| Fill the Bill | 2-5 | Students learn about bird adaptations by using different "beaks" to pick up items of food. |
| Animal Tracks | 3-8 | Students learn how to identify animal tracks using a guide sheet and tape measure. |
| There's a Bird On Your Back! | 3-6 | Students learn to describe the basic markings of common swamp birds in this fun activity. |
| Great Migration Challenge (In Development) | 4-6 | Students play a simple game to learn what birds go through during their annual migration. |
| Plant ID | 6-12 | Students use a plant identification guide to learn plants along our lower boardwalk. |
Questions? Email Noel Williams at nwilliams@audubon.org.