Science
What is Project PROTHO?
Always wanted to be a Citizen Scientist?
The old-growth, bald cypress-tupelo swamp at Beidler Forest contains some of the highest densities of breeding Prothonotary Warblers in South Carolina.
In an effort to learn more about the breeding biology of these warblers within our unique ecosystem and to support our conservation efforts, we have captured and banded a number of birds at Francis Beidler Forest.
Each Prothonotary Warbler has a unique color-band combination that allows the identification of each individual bird.
A touch-screen display in the visitor center teaches how to record data and identify color-banded birds.
Sightings of color-banded birds will provide valuable baseline data on site fidelity, territory size, daily and seasonal movements, and nest success rates. Your recorded data will add to the scientific knowledge about these birds.
If you have seen or photographed banded Prothonotary Warblers and are interested in the details we have obtained regarding their bandings, territories and nesting attempts, you can use the links below to navigate to each bird's page. (We are in the process of building the pages, so let us know if your bird is not yet shown and we will give that bird priority treatment!).
Bands are read from lower left to upper left to upper right to lower right.
| Color | Number |
| --- | --- |
| Red | 0 |
| Green | 1 |
| Yellow | 2 |
| Light Blue | 3 |
| Black | 4 |
| Orange | 5 |
| Gray | 6 |
| Dark Blue | 7 |
| White | 8 |
| Black/White split (denots birds banded in 2014) | 9 |
| Red/Yellow split (denots birds banded in 2015) | 15 |
| Red/Blue split (denots birds banded in 2016) | 16 |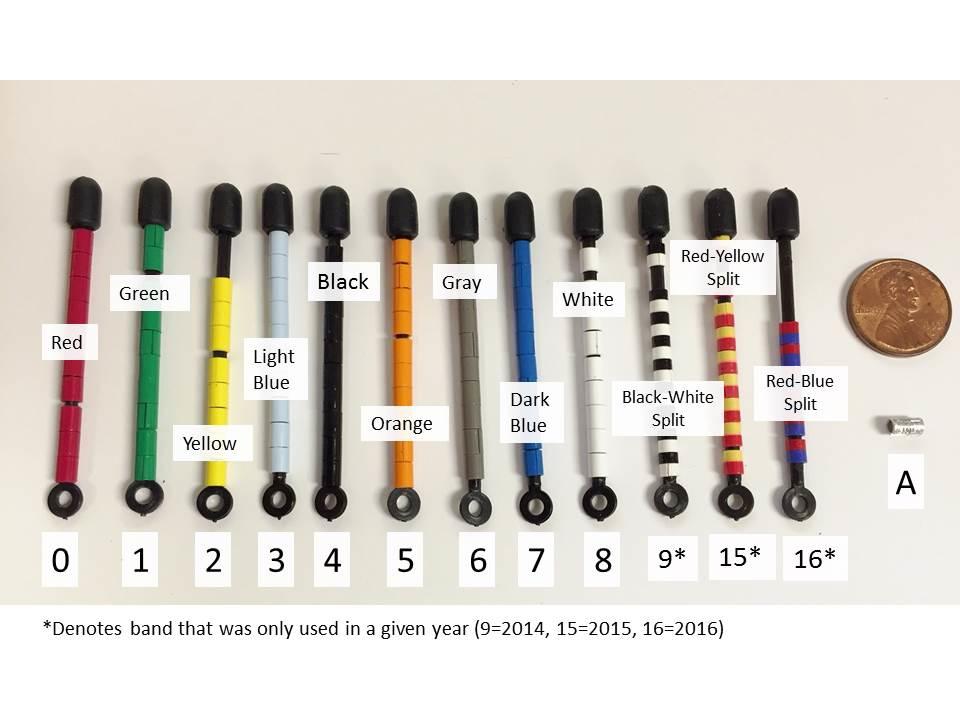 Prothonotary Warbler pages: 460A, A012, A014, A037, A048, A250