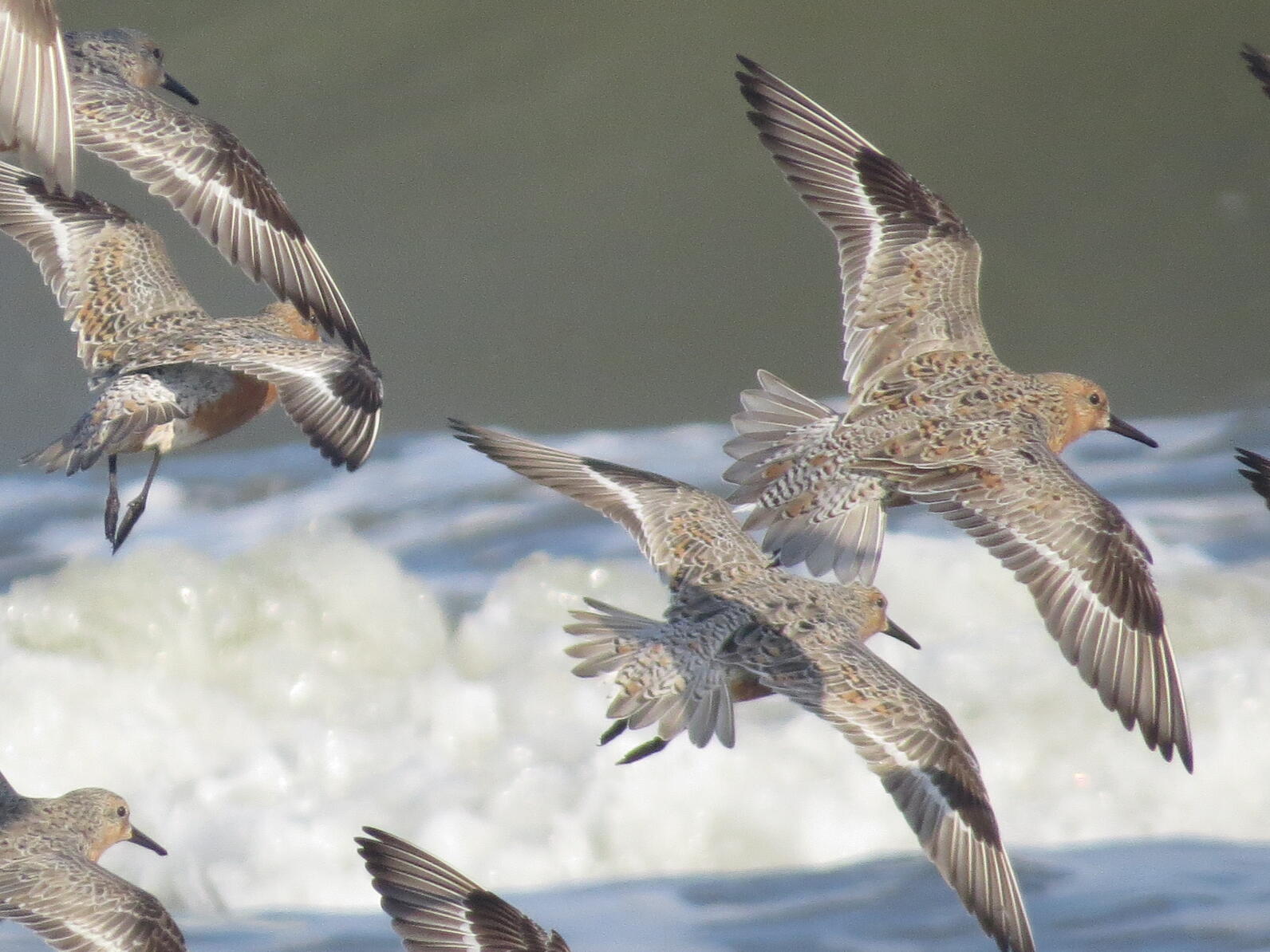 Since 2008, Captain Sam's Spit at the west end of Kiawah Island has been the subject of a long-running legal saga. Developers are eager to build 50 houses on the highly-erosional spit, despite the fact that it periodically disappears under the waves. Conservationists are equally eager to protect this fragile place for birds, sea turtles, stranding dolphins, and the humans who enjoy their company.
The Latest Permit
Now developers want to add 8,000 cubic yards of fresh sand — about 400 truckloads — to dune areas that were flattened by Hurricane Matthew. Here's why the permit should be denied:
DISTURBANCE: The commotion created in dumping the sand would scare away birds that frequent the Spit in winter months. That includes federally-listed Piping Plovers, state-threatened Wilson's Plovers, and, surprisingly, federally-threatened Red Knots. As most birders know, the Spit is a stopover for large numbers of migrating Red Knots in spring and fall. Also, dozens of Red Knots have been surveyed there in January.
FOOD SOURCES: The sand would smother the tiny invertebrates that shorebirds feed on, sharply reducing their numbers for a period that would probably last several years. Piping Plovers, Sanderlings, Ruddy Turnstones, and other shorebirds forage in the wrack. These birds and many others, including the Red Knot and Wilson's Plover, forage in intertidal areas. With high tide now reaching or nearly reaching the remaining dunes, the restoration would dump sand right onto the "dining table" of many vulnerable species.
NO NEED OR BENEFIT: To get this permit, the applicant needs to show both a need for the project and an economic benefit – but there's no way to do that. There are no structures on the Spit for the dunes to protect. The dunes are recovering quickly and naturally. And artificial dunes are inherently less stable than natural ones. So what's the need for, or the economic benefit from, rushing flimsy fake dunes into existence? Nada. And, nada.
Vulnerable Birds
Coastal birds are increasingly vulnerable. Populations of both seabirds and shorebirds have dropped nearly 70 percent on average in the last few decades. The challenge for these birds is habitat loss. So driving them from the lovely habitat on Captain Sam's Spit, whether by clattering sand trucks or long-term depletion of their food sources, makes no sense — especially when there's no reason for it.
Our thanks goes out to all the bird-lovers who have written and/or spoken out as the state Office of Ocean and Coastal Resource Management (OCRM) decides whether or not to grant this permit. If you ask us, this one's a no-brainer!
PROJECT CONTACT: Nolan Schillerstrom, nschillerstrom@audubon.org