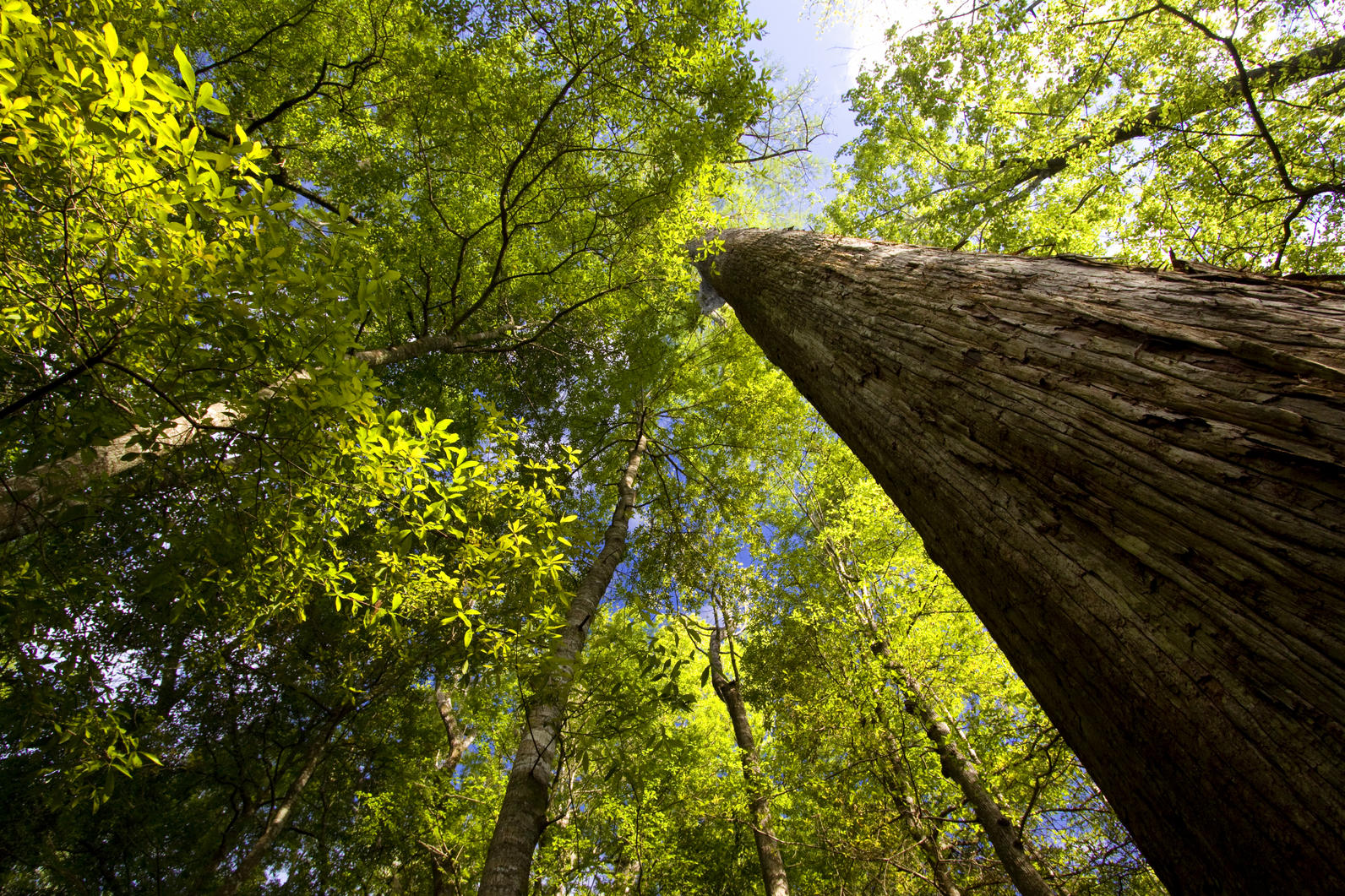 Beidler Forest was originally established to preserve 1,800 acres of old-growth cypress-tupelo swamp forest. Unlike most of the world's forests, this land has never been axed or chain-sawed to the ground. It's a perfectly intact ecosystem — and one of just two old-growth cypress-tupelo swamp forests left in South Carolina.
Today, Beidler Forest includes more than 18,000 acres. Most of the land lies within Four Holes Swamp, a 45,000-acre matrix of blackwater sloughs and lakes, stands of bottomland hardwood, and bald-cypress and tupelo-gum flats.
Four Holes Swamp, in turn, is a major tributary of the Edisto River, part of the Charleston area's famous ACE Basin. Our ecological treasures are all connected — and here are some of the reasons why the Beidler piece of the puzzle is so important:
Watershed Conservation
If you want a clean river, you've got to protect the land around it. That's because a natural landscape filters out pollutants. But if you want an exceptionally clean river, you've got to protect the entire watershed — meaning the larger landscape that includes all the little waterways that drain into the river.
"Watershed conservation" is what we've been up to at Beidler for more than 40 years. In addition to assembling 18,000 acres of our own, we've also helped our neighbors protect 25,000 more acres. That translates into protection for 30 miles of a 34-mile floodplain.
The benefits, of course, flow downstream. A clean Edisto River helps keep the ACE Basin biologically vital. It also supplies clean drinking water to homes and businesses in the Charleston area, lowering the cost of water treatment now and in the future.
Audubon likes to say, "Where birds thrive, people prosper." As our feathered friends enjoy the protected landscape in and around Beidler, Charleston residents reap the benefit!
Restoration & Flood Prevention
At Beidler Forest we're also restoring wetlands — 7,000 acres and counting. Wetlands act like a sponge, absorbing excess water during storms. That, in turn, minimizes flooding downstream.
Plus, Beidler is joining other conservation groups across the Southeast in restoring key pieces of the longleaf pine ecosystem, which once covered ninety million acres in this region.
Longleaf restoration is great news for the federally-endangered Red-cockaded Woodpecker. Along the way it also benefits Northern Bobwhites, Pine Warblers, Brown-headed Nuthatches, Bachman's Sparrows, and more.
Climate Strongholds
In addition, Beidler Forest shelters birds in a warming world.
Climate change is one of the biggest challenges birds face. Changing weather patterns shift and shrink birds' ranges, which can limit food sources and/or introduce them to new predators. As a result, more than half the bird species in North America are threatened with steep declines or extinction by 2080.
So not only do we need to protect places that vulnerable birds need today; we also need to protect places they'll likely be driven by changing weather. These safe spots, called "climate strongholds," have the right temperature, precipitation, and seasonal changes to support a diversity of birds, now and in the future.
Beidler Forest is in a climate stronghold. So by protecting and restoring habitat here, we not only help the bird species that frequent Beidler today; we also help the species that will seek shelter here in future years.
Research at Beidler
There's one last benefit to protecting land at Beidler. This forest is where Audubon South Carolina does some of its most important research, which teaches us how to help our state's birds thrive. If you're a data geek (we proudly are), check out our new MAPS station and our Project Protho, which tracks tiny birds thousands of miles south on their winter migrations.
And You?
If you're excited that your visit to Beidler links you to these larger conservation efforts, please consider getting involved with Audubon South Carolina. You could host a speaker, volunteer outside, speak up for birds, and/or make a donation. Every dollar gifted to Audubon South Carolina protects birds and habitat in South Carolina!